I've been meaning to write this entry for a long time. Truly ever since I discovered The Kind Campaign. If you don't know about The Kind Campaign, please visit their site http://www.kindcampaign.com and follow them on the social media and learn about how these incredible women are helping to teach the young girls of this world that bullying each other is wrong and unnecessary. I wish this organization had been around when I was growing up.
*Please note that all names have been changed. Fifth grade was a single year of bullying and I am friends with all those wonderful people now. College…is another story.
I was tiny, into music that wasn't popular yet, loved shirts too big for me, acting, and I was alone in my class. My middle school always shuffled us around into different classes every year and in fifth grade, I was separated from the majority of the friends I had made in third and fourth grade. They were all in another class, a cooler class, that Bethany was also in. I was alone and among kids who had been friends prior to fifth grade. I was an outcast of sorts. I was smart but not too smart and cool but not cool enough. I was an easy target because I was trusting and tried hard to make friends. These kids could smell my desperation. And that's when they started what I still consider one of the worst school years of my life.
I still had my friends down the hall who I would see at lunch or recess or after school. I had friends in my theater group. I wasn't entirely alone like some kids being bullied are. But still, it was the confusion and the hurt that broke me down when these few kids didn't like me. It's so hard when you're that age to understand why this is happening to you and you can't stop it. I had thoughts of suicide for the first time at that age. That's horrible to think about but when you're young and you've become aware of what suicide is without realizing the finalness of it, you view it as a way out. I used to visualize how I would do it and how those kids would feel so badly for picking on me and cry at my funeral. I never thought about my family and real friends and what ending my life would be like. My brain was so focused on escaping the everyday onslaught of cruelty I faced with every alarm clock, I didn't think anything through.
I didn't have any boobs when I was in fifth grade. I mean, I still don't really. Several boys announced loudly in the cafeteria that I was a carpenter's dream one day. When I asked what that meant, they shouted "Flat as a board!"
After this, I insisted that I get a training bra. I probably didn't need one just yet but everyone else had them and I felt left out. I was invited to a birthday sleepover. I was usually invited to places and activities because they wanted to pick on me in a group setting. I wore my bra. I took off my bra. It was taken from my bag, soaked in water, and put in the freezer. The next morning when I couldn't find it, some of the girls brought it out, frozen solid, in front of everyone, including some boys that had been invited over. I shoved it in my bag and tried to laugh with them as they mocked how small it was and asked why I even needed it. This was after they also tried to make me pee by putting my hand in warm water when i was awake. I fake slept through it so I wouldn't have to face them.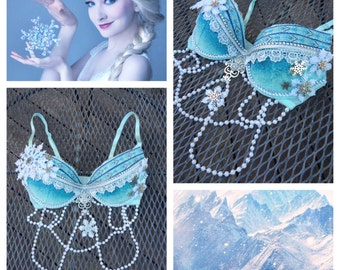 I Googled 'frozen bra' and this is what I got. I couldn't be more pleased.
I invited one of the girls of the group to go to the mall with me. My mom said to kill them with kindness and this girl, we will call her Lisa, was always kind to me in spite of her friends. We went and had a great time. She was ruthlessly picked on for the week following for hanging out with me because I was such a loser.
At one of these parties I was invited to, there were boys. Spin the Bottle was the best game in the world to many of us at that age and the boy I had a crush on was at this party. I had stupidly told the girls I liked him because still at this point, I thought we were kind of friends. They told him, in front of everyone, and purposely tried to get the bottle to land on him whenever it was my turn. It was humiliating.
But not as bad as when we had a teaching assistant and I mentioned I liked him. Not as a crush. I just liked him and he liked me in that teacher understands a student. They told him I had a crush on him. They gave me his name as a nickname. I turned red every time I was called on by him in class because they would whisper and taunt me. *To this day, a few of them still call me that name and it has become a form of affection, fortunately but this is origin of it.
I was teased, humiliated, mocked, embarrassed, and used. It was abusive. But at the time, it was 'kids being kids'. We were young and they were dominate in that class. The next year, sixth grade, I was back with my close friends and I wasn't bullied. I slowly became friends with the group that had hated me that one year. We are friends to this day. In eighth grade, I did the unthinkable. I bullied a girl with a group of my friends. We had a horrid nickname for her and did the same thing that was done to me. She would invite us over her house and we went because we liked making fun of her and her house and her clothes. I regret it all because she moved soon after this all happened and I was never able to become her friend and apologize.
However, it isn't always kids. Unless you count college freshman as kids which I suppose you can. But I feel they should know better by that age.
Freshman year at college was going smashingly. I made a ton of friends, I had a cute boy who liked me, I was doing great in my classes and my roommates and I got along. It was fun to meet people from all over and to also find out several of my new friends had friends in college that my old friends went to. Alia was friends with Trish at school in Maine, who was one of my friend's Jenny's best friends. Trish and I finally met at Alia's wedding. There was one connection in particular that led to my second dose of bullying. A connection that meant nothing to me but backfired as badly as something can.
A girl in my class, let's call her Ann, was still with her high school boyfriend. That boyfriend went to school with one of my high school friends. One day, I was on the lovely AIM messenger we all miss dearly (not), and my friend messaged me.
He said he had a few questions for me regarding Ann and this guy she was hanging out with a lot. Now Ann and this guy, let's call him Sam, had been hanging out a lot and it seemed they liked each other more than friends but that wasn't something I knew for sure or cared to know because Sam had just dumped me a few weeks prior. I said that they hung out a lot and seemed to be good friends. Well, the boyfriend took this as Ann was cheating on him and they fought and ended their relationship. He told her I told him she was cheating. I did no such thing. At the time, I don't think you could review your AIM messages, maybe you could. But that rumor spread like wildfire.
First, Sam took it upon himself to reveal a lot of personal information he had learned about me in the brief two weeks we 'dated'. Most of it was not kind. Then Ann told everyone that I had ended her relationship. My suitemate, let's name her Carol, chose the side of Ann and started to make my life a living hell. She would lock me out of the dorm. She would take my stuff. She and my roommate put salt in my bed which was the dumbest thing of all time because the prank is you put the salt on white sheets and the person can't figure out why their bed is so grainy. My sheets were navy blue. I had also told them this prank. Way to go.
The friends I had made stopped speaking to me. They ignored me in class and made fun of me on AIM and shared their jokes as away messages. They spread rumors. Cruel rumors of me being a slut or ugly or anything I was insecure about that I had entrusted to them, the campus would hear about it. They would whisper about me at parties. They, again, would tell boys I had crushes on them, especially this older boy I really liked for a while. WHY IS THIS A THING? THIS IS SO MEAN! I felt alone, outcasted from the people I had to work with in class everyday. I was one of them and then, like a light switch, I wasn't. They abandoned me fast and furious all because Ann and Sam were the dominant two of this group we had formed. And yes, they started dating pretty soon after the incident and dated for over four years so really, I didn't make any different whatsoever and had no reason to be punished for the inevitable.
I cried every night in my dorm or in the library or other corners of campus. Usually the bathroom downstairs in the student center. I talked on AIM constantly to Bethany and Alia and any of my friends back home who were around. I was broken into pieces and my work was suffering. I wanted to leave school. i looked into transferring to another college nearby. I had a professor ask me what was wrong one day after class and I lied to her face and said I was just tired. I could have told her. I know she saw what was happening in class when no one would speak to me or include in group activities or sit by me.
But…I made new friends. A lot of new friends. Great friends. And I had kept a few of the group who had abandoned me. Matt for one. Matt never left me, has never left me. He's my Peter Pan who clapped to bring me back to life. Him and Ricky and Drummey. Those three boys were my salvation and never once faltered in their friendship to me because they didn't care who was dating who and who said what. They were able to be friends with me and the group and that helped saved me and made me stay.
Eventually, I was able to exist near the group. The older members warmed back up to me after a short while because again, they realized it didn't matter and wasn't their business. Sam and I became good friends towards the end of college and remain so today. He even apologized for everything he said which was brave and admirable. It wasn't necessary but he did it any way. He's a good man. Ann and Carol never did came back to liking me and still haven't. Well, Ann sort of has. When I've seen her, we have been friendly and I wish her the best in all things because I know it was a time and place and once you bully someone enough, it's hard to go back and apologize and be friends. We probably won't ever be friends, Ann and I, because that time has probably passed and that's ok, but we successfully played them in a scene once and we both were pretty proud of that. Carol…will never like me again I think. We were close once. I went to her house several times and we got along immediately when we had met. But to this day, she speaks ill of me and that's just how it goes. She went the Regina George path and never looked back. Those girls were not shy about their cruelness and were relentless even when I became friends with basically everyone in the drama department, including their good friends, they never came around.
As much as it seems silly, it still bothers me. I still want to reach out and be their friend because I am still that fifth grade girl trying to get everyone to like her and not understanding why they don't, why they are so cruel. I'm tempted every day to send Ann a Facebook request or reach out to Carol because I did like them both. They are funny and sarcastic and loyal as fuck to the people in their lives. But I know it's ok that I haven't and I don't need to. There are people in the world you have to accept don't like you or you just don't get along with. And that has to be ok. The bullying is what is not acceptable and needs to stop being the norm and replaced with communicating and getting to the root of the issue. Ann never really confronted me except for one day in the student center right after her and her boyfriend broke up. She sat down and asked what I had said and if it all was true. I told her the truth. She seemed to believe me and then the shit hit the fan. Had she just had patience and talked more to me, trusted me, maybe we would be friends today. If my differences were accepted instead of judged, maybe fifth grade would have been a great year. It's easier to go the Mean Girls route It's easier to gain power with gossip and push others down to feel better about yourself. People take the easy way and I so wish that wasn't our first inclination.
Most recently, I was touched by bullying as an adult. I had a huge misunderstanding and tense relationship explode with my husband's ex who I had tried to be friendly with. Her friends took it upon themselves to blast me on Twitter and say nasty things behind my back. Some of these girls I had never met. Some of them I had been friends with before I had met and started dating my husband. They turned they back on me and got involved with something that wasn't even their business. It brought all the memories flooding back and sent me spiraling into a dark place for a few weeks. I felt trapped and nervous. Everywhere I looked I saw or heard something else they had said. I was a slut. I was crazy. I was a heartless bitch. And worse, when I tried to speak to them politely and maturely, I was treated even worse or just plain ignored and then Tweeted about. I couldn't believe that women acted this way in their late twenties. I blamed myself because this seemed to keep happening to me. Was it my fault? Was I an easy target? Was I actually crazy? Am I a bitch?
When I discovered The Kind Campaign, it was by accident and a touch of that mean girlness I try to avoid. I had seen Aaron Paul's wedding pictures on People magazine and his beautiful bride, Lauren. Being a Breaking Bad fan and having the typical rabid crush on Jesse, I was curious who this girl was. Upon looking at her, I judged her. I thought she would be dumb and a super model because damn, that girl is gorgeous. When I found basic information on her, I couldn't believe I had judged her by her appearance. I was so very off about Lauren Paul, who is smart, witty, determined talented, and kind. I fell in love with the concept of The Kind Campaign and now follow both her and Molly Thompson, who founded the organization alongside her, on the Facebook, Twitter, and Instagram. They are both inspiring women who love this world fiercely and have been through bullying themselves and have risen above it. They created this project for girls like themselves and me and girls who have had it much worse. I would love to help them out in an assembly that they do in New York or any where just to see first hand these girls apologizing to each other and learning about how to support one another (Lauren, can you hear me?). How do we not do this as kids? How do we not see we are all learning and growing and figuring out who we are? We should be stand together, not tear each other apart.
I got through my bullying and yes, still to this day, sometimes I judge people on the surface or by how they dress or what they like. When I catch myself doing this, I always apologize to the universe and take it back because no one deserves that. Please check out The Kind Campaign and give kind. Be a little nicer to your classmate, roommate, or neighbor. You never know when they could turn out to be just as lost and scared as you.